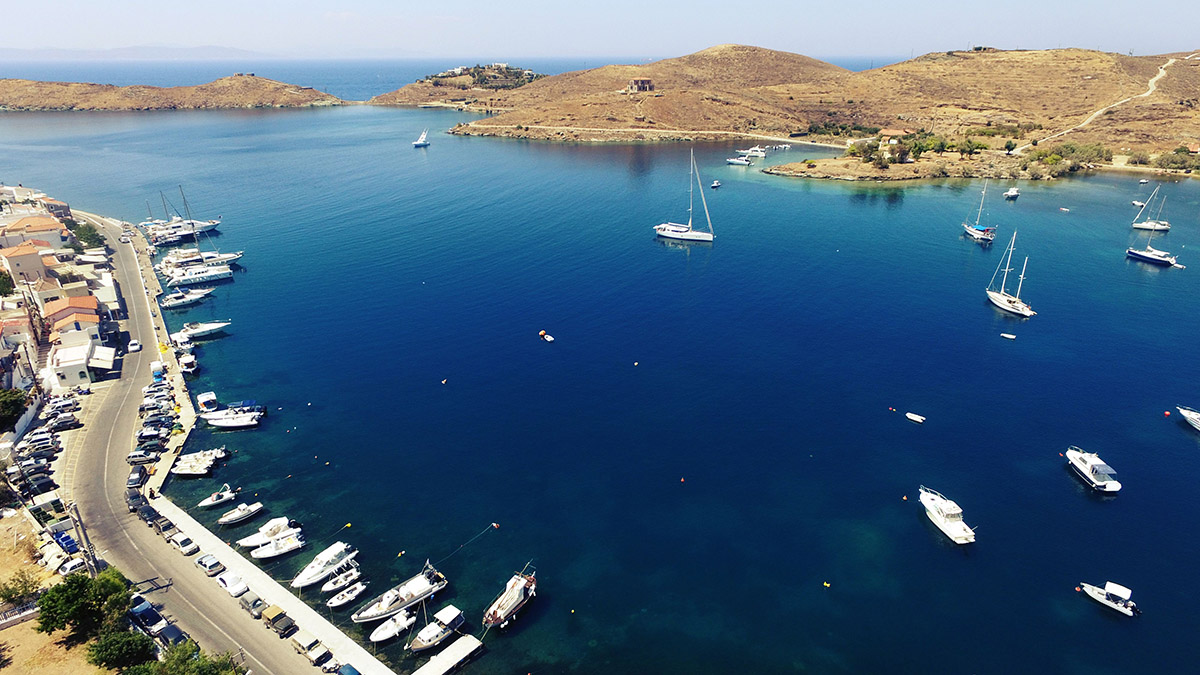 The picturesque and cosmopolitan Vourkari is a meeting point for yachts and local people and it is situated within 2 kilometers from the port Korissia in the bay of Saint Nikolaos, 7,5 kilometers from Chora or Ioulida, 3 kilometers from the beach-bay of Otzia and a few minutes from Yialiskari beach. Transportation on the island is possible by local buses, taxis and cars. Tzia has a fine road network and renting agencies for cars and motorbikes. Just across Vourkari, there is Saint Irene's peninsula named after the chapel bearing the same name which is built within the archaeological site. It was back in 3000 up to 1100 B.C. that in this location an important Aegean settlement flourished. One may see findings which are exhibited at the archaeological museum of Ioulida.
In Saint Irene's peninsula we come across:
Kokka : a deserted industrial area with a unique atmosphere. It operated as a carbon replenishment station for steamboats from the end of 19th century up until the beginning of the Second World War.
Lambros Katsonis' strait: In August 1789 and during the Russian-Turkish War (1787-1792), Lambros Katsonis who served at the Russian Navy, was closed off by Turks in the harbor of Vourkari. He eventually managed to escape during the night, by passing his ship over this thin lane of land and onwards to the open sea. Local people who had helped him escape, suffered destruction and slaughter as their punishment by the Turks.
Saint Nickola's Lighthouse: built on the ruins of an ancient temple dedicated to God Apollo. It was constructed in 1831 by the French Lighthouse Company, with a tower height of 8 meters and a focal height of 32 meters. It was the first lighthouse to have ever lit in the Cyclades Complex of Islands and the second one in the whole of Greece.
DEVELOPING OTHER ASPECTS OF TOURISM
Walking Tourism: The island of Kea (or else Tzia) offers the opportunity of hiking at a network of 81 kilometers in length. The specific paths are part of the ancient road network which during the 7th and 6th century B.C. interconnected the city-states of Korissos, Ioulida, Poiiessa and Karthaia. Metal plates are placed in all paths showing the path's unique number as well as wooden ones providing route information.
Diving: Kea is surrounded by a number of shipwrecks such as the twin ship of the Titanic,  Britannic which was a kind of floating hospital, the French ocean liner Brudigala, the paddle steamboat Patris and finally the German airplane Junkers 52 from the Second World War. You may find a diving center on the island and diving expeditions are regularly scheduled.
MAP